One sweet little girl came to World Challenge's partners after having endured terrible and unusual circumstances at home.
Most children don't expect their parents to start needing help and care until well into their golden years.
The Center for Retirement Research at Boston College found that the vast majority of adult children don't begin providing care for their parents until they're well into their own 60s and 70s.
What if you had to start tending to your parents when you were in your 30s or 20s, though? Certain career or even schooling options would have to be put aside. The shock and loss of having a parent decline that early in life would definitely take its toll. 
What if you began caring for a dying parent when you were 8 years old?
When Everything Is Not Fine
Patricia's teachers knew that her father was an alcoholic and her home life was rough, but she was a hearty kid, cheerful and hard working. She might not have been the top of the class, but she was holding her own.
At least, she was okay until suddenly she wasn't. Patricia began folding in on herself, become much quieter and chronically exhausted. Her clothes often didn't look very clean, and she started having trouble making it to the restroom in time. This isn't typically an issue that elementary school students deal with; when teachers tried to ask her what was wrong, though, she grew distressed and even quieter.
Some of the neighbors on Patricia's street confirmed that things in her home had taken a turn for the worst.
Patricia's father had died abruptly, and her mother had become very ill the same month. She'd gone out and returned several times with Patricia, presumably to see doctors, but they only had bad news for her.
Soon the neighbors didn't see her anymore, and when they asked Patricia's grandmother about her, the grandmother said she was staying in bed.
The neighbors were appalled. What was Patricia doing? Who was taking care of her? Who was doing laundry, cooking food or helping her with her schoolwork?
The grandmother waved off their questions. This alarmed people who knew the family even more because it was unofficial neighborhood knowledge that the family's matriarch was nearly as much of an alcoholic as the husband had been. A few braver souls suggested that Child Protection services be contacted.
The grandmother shut down the conversation. They were fine. Everything was fine.
Finding a Sanctuary at Last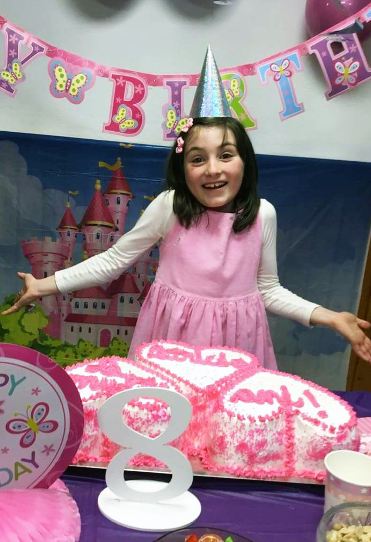 Behind closed doors, Patricia was almost singlehandedly taking care of her mother and the household, as best an 8-year-old could.
She measured out the proper dosages of medicine that the doctors had given her mother. She tried to cook meals and bring her mother food. When her mother became incontinent, she began changing her mother's diapers and trying to bath her mother in bed.
There was only so much, though, that a little girl could do.
One day, a Child Protection assistant showed up on their doorstep. A neighbor or teacher had finally ignored the grandmother's wishes. The woman came inside and inspected everything. Her records of the visit affirmed that the house was in very poor condition, dirty and not fit for a child.
In February 2020, Patricia's mother passed away. Child Protection services took Patricia and delivered her to Fundatia Sanctuary, a Christian orphanage and World Challenge's partners in Romania.
"Patricia is a sweetheart!" noted one of the team at the sanctuary. "She is very mature for her age due to her lifestyle, and she is very responsible, having an amazing attitude about the whole process. We are so blessed to have her in our family, and we are praying that God will embrace her with his love and comfort her. We can already see a difference in her smiling face and sweet spirit."
She added urgently, "Please pray with us that God will give us wisdom on how to help Patricia. Most importantly, we want Patricia to have a personal relationship with Jesus and to let him pour his love into her life."
For the first time in many months, Patricia has found peace and sanctuary, but more than anything our team wants her to have an eternal security.